I have been subsumed by life's debris and lost touch with the thing I love most- thinking about Hindi films. Even when I watched something fab I didn't think I had time to write up anything. It was weighing heavy on my heart, so this is my new thing – the stream of consciousness analysis.
It may only make sense if you've seen the film (and a few others I reference), and there may be spoilers, assuming you know nothing about the major tropes of Hindi cinema.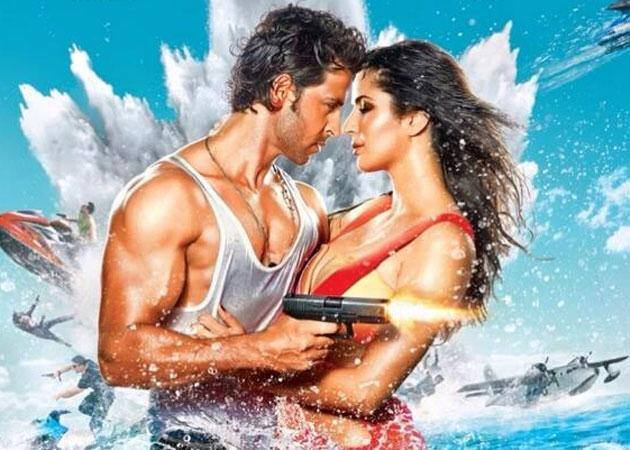 Bang Bang
(Oct. 2014, Dir. Siddharth Anand)
Open on Pizza Hut box in a jail cell – nothing like subliminal food placement first thing in the film!
Hair dye central: Jaaved Jaffrey, Jimmy Shergill, and Danny Denzongpa (aka Zindagi Ka Safar) the villain.
Those bullies don't respect a maa – that's bad karma for them.
Colonialism sent the Kohinoor to London.
$5 million for a 160ct. diamond? Hrithik better not sell for that low or I'll lose all respect for him.
Katrina's life sucks – a sexually harassing new boss and constant reminders her biological clock is ticking.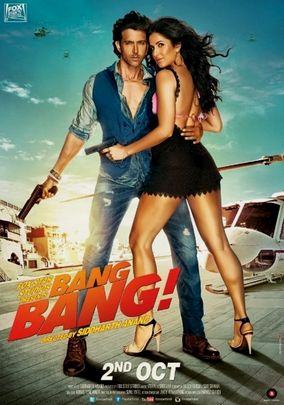 Hrithik Roshan: Best Frosted Tips of 2014 award.
Levi's wearing hunk with eyes like a diamond.
Their first date is a showdown of white teeth.
Skills like Jackie Chan, reflexes like cat.
Katrina's Canadian: her cover story for Hindi accent?
HR stealing from the British like Dhoom 2.
The only film with product placement of a tile company – boy they sure are durable! He's hitting the guys in the face with them, and they don't break!
A little research and look what I found online: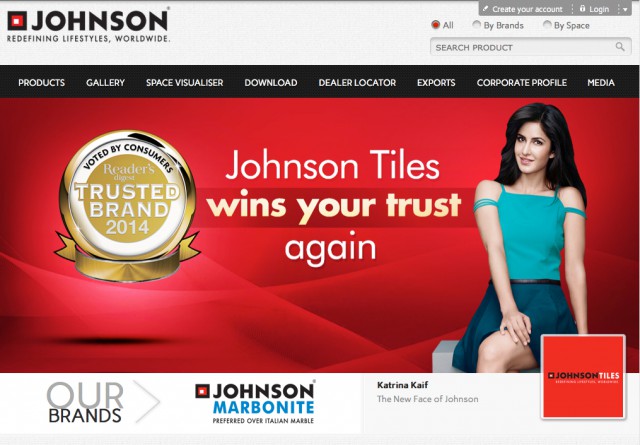 Slick violence with tongue-in-cheek.
He literally is a tall drink of water – look at Katrina hit that bottle!
Pool scene where Javeed's cigar ash lengthens and shrinks, and the poor guy's fingers are so pruney you can guess how long it took to film.
Katrina wears mascara and blue eye shadow in the shower.
Dream scene involving wearing a ball gown and swinging on a tractor tire. Almost as good as this:

This is the first film to introduce scare quotes into Hindi, a language that doesn't use quotation marks.
Kaif lapses into her frequent avatar: the outraged girl. It does seem like emotion when you yell in clipped tones.
The Pizza Hut stands alone in Shimla.
On the run from the police, he sedates her for a while and buys her a new wardrobe.
They listen to "Louie Louie" on the island.
Best gadgets since Bond, including the water shooting hovercraft platform shoes.
All she wants is to own a restaurant in Greece where her nails match the window frames. The video doesn't do them justice.

Same place?

I'll forgive the latex scars that fall off and change color when wet, but it's best not to look at them.
Hrithik is a man who knows how to work a swallow for dramatic effect.
Long kissing scene: some kid in the audience said "Is he crazy?"
Drink a Mountain Dew and he's gone.
She goes back to her 1984 computer and frumpy hair. She must be the one typing the location subtitles with the blinking cursor.
She goes to the honeycomb hideout and stirs up some old feelings in his parents.
Cue gratuitous Kaif torture scene, then Rajveer (Hrithik) turns into Drona.
He's On Her Majesty's Secret Service after all – no wonder the villain is bald.
The perfect sibling revenge plan. Classic.
Then Hrithik's the Kool-Aid guy in the getaway on a motorcycle
How he can drive a Formula One car with no glasses on and still see? This guy is magic.
Who'd ever think you'd see Katrina Kaif kill a lot of people in a movie?
That bad guy was axing for it in the final fight scene.
Is it just me or is Hrithik always running in front of fire?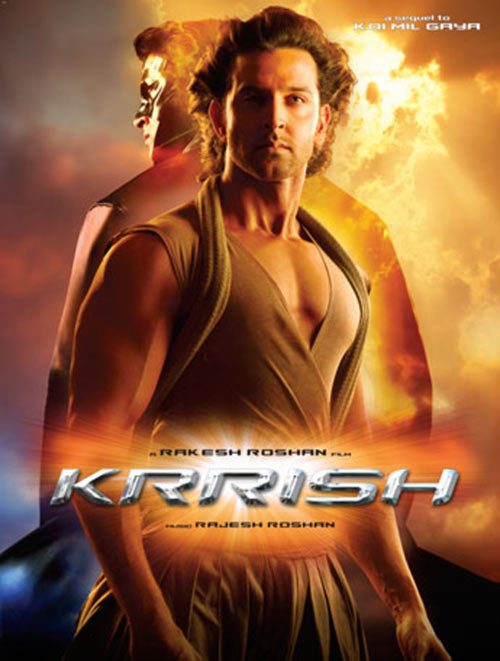 Face so smooth and face so craggy, sometimes in the same scene.
Now it's his turn to get sedated: how romantic!
It's all about family at the end (of course, Rohan bhai), and then it's on to the visual pornography of the credits.