This site has to be the cleverest indictment of the modeling industry I've ever seen. Catch the series to get the full effect.
See the small story at http://distractify.com/people/male-models-and-cats/ .
See the big story at http://deshommesetdeschatons.tumblr.com/ . It's French.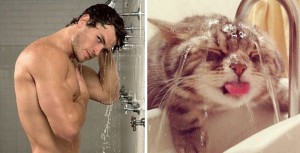 Cats / chats et hommes / men.
बिल्लि और आदमी . Gato y hombre.