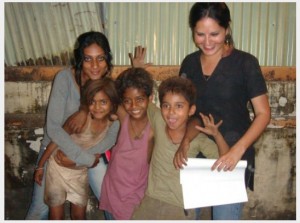 Loveleen Tandan, far right in photo
Slumdog Millionaire has been generating a lot of attention in these parts and I'm happy to have participated in a lot of conversations about it, although I haven't seen the film and have no plans to give it any of my money or theatre-time space. When I choose to see a film in a theatre as opposed to at home, I'm basically turning over my mind and time (2 valuable commodities this way) to someone else. I resolve not to multitask in the theatre, except for the occasional popcorn or hand-holding.
Over lunch an Ethnic Studies scholar who I respect on many levels was asking me about my upcoming trip to Singapore to present at a symposium on Indian cinema's travels around the world. Then he asked me what I thought of Slumdog Millionaire. I told him I had read some of the press about it ahead of time, knew the storyline in some detail, and had decided not to watch it. I didn't think I'd learn much I didn't already know, and it would probably piss me off more than would be worth it to me (I have other reasons, but he hadn't asked WHY I was gonna see it).
He asked me: "How can you consider yourself a film critic if you don't see the film?"  I guessed that implicit in his shock was that here I am professing to study Indian cinema, and I wasn't going to see SM. I asked him if that was it. "Yeah!" he said.
I said I don't consider the film an Indian film, given that it was made by Danny Boyle, blah blah blah.
It's an interesting time lately – Indian films have just enough prominence that people don't just automatically assume that a film with a lot of Indians in it was made by a white guy (helped along in their assumption by a savvy marketing campaign). At the same time Indian films don't have enough clout in the US/UK film industry to launch and market a film that IS Indian-made (I think the Indian distributors could do it, but are blowing it – that's for another time). SM comes at a great time to continue the guise of a shifting cultural power order (and capture the pocket money of those who'd like to see the shift), while still tacitly keeping most of the existing power structures in place.
And as many have pointed out, for all the trumpeting of the ascendancy of this "Indian" film as a proof that the film world is culturally diverse, the many pop-culture films made in India about similar topics have thus far received few nods and accolades from the major European/US awarding foundations (Think perhaps Madhur Bhandarkar's work). I was stunned to hear that Shah Rukh Khan (the only film star on Newsweek's recent 50 Most Powerful People in the World list), who presented SM at the Golden Globes this month, was the first Indian actor to ever present in its 66 year history. As he was filming in LA at the time, it wasn't like they stretched out too much to try and get him there, and he was a relatively late addition.
I don't want to spend a lot of time here talking about my own reasoning behind not seeing it- if you've talked to me about it you know you can get an earful. I always encourage people to think critically about their media choices as I saw what a positive difference it made in my life to give up all my crime shows (including my beloved Closer) this past year.
There are a couple of issues that have been hot-button topics in my circles that I'd like to highlight, because I think the prominence of this film is raising them more widely than I've seen before. I've seen plenty of films that have a similar set of challenges in terms of the way the film was made and/or the storyline, but none that I can remember have caused such a stir among media-oriented people in my circles. For this chance to discuss them, I'm grateful to the film.
One thing people are wondering about is what some feel is poor (no pun intended?) pay for the youngest actors in the film. Apparently, the middle class child actors that casting found in India didn't look thin or impoverished enough for the film's realism demands, and actual poor and impoverished children were hired. The filmmakers say they fairly compensated the kids, paying them more than adults would make per day on the shoot. But that's adults in India, not the UK. I leave it to you to check out the back and forth online – I'm like the last blog to jump on this bandwagon. I think, though, that in the context of outsourcing and maquiladoras, this issue is interesting to consider. If you pay someone $4 an hour in a country where the standard pay is $1 for the work, are you being generous and ethical if in the US/UK the same job would garner $14/hr?
One issue that I've written about some in terms of music is the issue of crediting for the work done, with the pay and career rewards that go along. I myself keep referring to the film as a Danny Boyle joint, when Loveleen Tandan, late of Brick Lane (2008), Vanity Fair (2004) and Monsoon Wedding (2001), is credited as co-director, though she wasn't invited to the Golden Globes at all. And her name is missing in the Academy Award roster, where SM is nominated in 10 categories, including Best Director, a category that generally only recognizes one person, though you can petition to allow more to be nominated for a film.
This notion of intellectual property where there is only one author credited for what often cannot be produced alone is a long-standing tradition, and I believe one that has been developed to keep power in the hands of those best positioned to keep power – those in power. The "owner" of a work is someone who can copyright it first, not the person who thought of it first or even made it first. In my reading of the 1992 documentary on Paul Simon Born at The Right Time, it's clear that the musicians of Ladysmith Black Mambazo formulated a lot of the music on their "joint" recordings, though they hold few of the rights that would give them the same income stream that Simon gets from the release.
The Hot Pink Pen blog has a few items about the co-directing controversy, including an action link should you wish to write AMPAS about their decision not to nominate her for an Oscar(r) along with Danny Boyle. The Fund for Women Artists hosts a related review/interview discussing Loveleen Tandan's role in co-directing the film: http://www.womenarts.org/reviews/SlumdogMillionaire.htm.
As with the Simon documentary, the "injured" party is being gracious and staying out of the fray. I speculate it may be a case of not biting the hand that feeds you, which to me underscores the rife power imbalances. And having done the same thing myself because I needed to work, etc, I can sympathize.
An interesting article about Tandan, esp. if you like to read between the lines: http://in.news.yahoo.com/43/20090111/914/ten-slumdog-millionaire-has-an-indian-co.html.
———-
"Slumdog Millionaire" Update from the FUND FOR WOMEN ARTISTS Newsletter
The Fund for Women Artists
3739 Balboa Street #181
San Francisco, CA 94121
Phone: (415) 751-2202
Website: www.womenarts.org
Email: info@womenarts.org
"Slumdog Millionaire" Co-Director/Woman Director Update:
Danny Boyle was given the Best Director award at the Golden Globes for his work on the film "Slumdog Millionaire." But Chicago film critic Jan Lisa Huttner noticed that IMDb.com (a highly respected film resource) and the film's official press kits listed a woman named Loveleen Tandan as "Co-director (India)". In an interview published on our website, Huttner asked Danny Boyle whether he considered Tandan the co-director, and he replied, "Yes, she deserves it! She's a proper director." (See http://www.womenarts.org/reviews/SlumdogMillionaire.htm)
When the Golden Globes nominated Boyle for "Best Director" but failed to mention Tandan, Huttner started a letter writing campaign asking the Golden Globes leaders to explain why they had not included Tandan with Boyle. Many of our readers joined the letter writing campaign, often adding touching stories of their own about not being recognized for their creative work.
The people at the Golden Globes never responded, but journalists in the U.S. and Great Britain picked up on the story including John Jurgensen of the Wall Street Journal, Prairie Miller of WBAI, Ramin Setoodeh of Newsweek, Melissa Silverstein of the Huffington Post, Amar Singh of London's Evening Standard, Anita Singh of the UK Telegraph, & Sasha Stone of Awards Daily, and World Entertainment News Network published on IMDb News.
The Oscar nominations came out this week, and once again Danny Boyle was nominated for Best Director of "Slumdog Millionaire," and Loveleen Tandan was not mentioned.
The Oscars have a rule that only one director can be nominated per film, but waivers are occasionally granted, like in the recent case of brothers Joel and Ethan Coen, who both collected a directing Oscar for "No Country for Old Men." Huttner argues that the one-director rule does not reflect the realities of modern filmmaking, especially on a large cross-cultural project like "Slumdog Millionaire."
Tandan is trying to distance herself from the controversy. We will never know if it is because she truly does not think she deserves the credit or because she is worried about being labelled as a "difficult" woman. The "co-director" title is ambiguous, and the situation is complicated by race as well as gender issues. The reporter for Newsweek pointed out that the faces in the movie are brown, but the ones on stage accepting Golden Globe Awards were all white.
Huttner points out that in 81 years, only three women have ever been nominated for a Best Director Oscar – Lina Wertmueller, Jane Campion and Sofia Coppola, and none have ever won. Only two men of color have been nominated – John Singleton and Ang Lee, who won for Brokeback Mountain.
If Tandan had been nominated, she would have been the first woman of color ever to receive a Best Director nomination. Instead, the Academy nominated five men for Best Director for the 78th time in 81 years. Whether or not Loveleen Tandan should have been nominated this time, Huttner is right that there is something wrong with this picture.
For ongoing updates about this issue, visit Huttner's website at: http://www.thehotpinkpen.com